Jamcracker Platform –
Unifies Cloud Management and Governance
The Jamcracker Platform is a comprehensive cloud services broker, cloud services management and cloud governance platform, including cloud services provisioning, policy management, cloud cost management, and operations management. Jamcracker enables organizations to create, deliver, and manage multi cloud services and implement a cloud-enabled business model for offering, delivering, supporting and billing for multi cloud services. The Platform offers flexibility and scalability, with a multi-tiered, multi-tenant architecture, RESTful APIs and integration frameworks while supporting localization in terms of multiple currencies, languages and timezones. Jamcracker enables partners including telecom service providers, managed services providers, system integrators, distributors, technology and value added resellers to unify, deliver and manage SaaS, PaaS and public or private IaaS cloud services for the end customers including enterprise, mid-market, SMB and government organizations.



Roles-Based Access Controls
The Jamcracker Platform allows enterprises to control user access rights across the platform via profiles that manage multiple user roles and privileges across applications and private and public clouds. The platform also manages multiple service-specific roles for users through a single view, thereby reducing the complexity of managing users' roles and privileges across the platform.
Roles-based access control enhances security, by providing a low-cost, efficient way to restrict access to various functions of the platform.
Roles can be assigned privileges for access rights to various sections across the platform, and they can be defined at the marketplace and store levels for complete administrative flexibility.
Roles-based access control provides granular control of access to functionality based on user roles and privileges; roles can be inherited from external directories and databases or defined within the platform.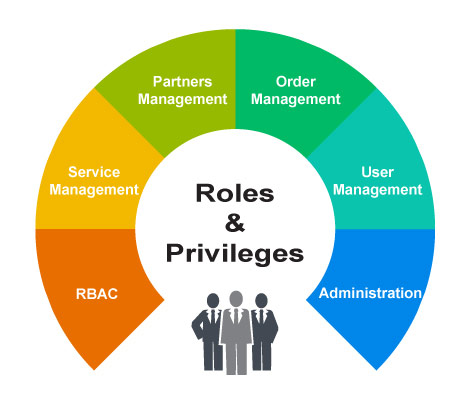 Billing and Payment Engine
The Jamcracker billing and payment system lets you monetize your process, integrate with critical applications, and account and charge for cloud services used. Utilization can be billed based on subscription or usage. The Jamcracker rating engine tallies rates and tariff information from the offer configuration and then generates invoices. The billing functionality reconciles payments against invoices and triggers collection processes when applicable. It can also interface with various payment channels in real time.
Run the billing engine in stand-alone mode or integrate with external billing systems to support subscription metered usage, one-time fees, tiers, and other pricing models.
Charge via credit/debit cards and invoices, and export data—including cost-allocation information—to external financial and accounting systems.
For enterprise IT, run charge-back/show-back reports manually or automatically to help with cost allocation across departments or business units.
Integrate the platform with Amazon, Rackspace, VMware, and OpenStack to receive real-time billing data, consolidated for reporting, auditing, optimization, chargeback, and other needs.
Integrate the platform with one or more external tax engines to obtain tax rates and amounts dynamically—or define the tax information in the platform.
Configure the billing solution for volume discounts, tier-based increases, and/or thresholds and groupings you define at the product, package, market segment or individual customer level.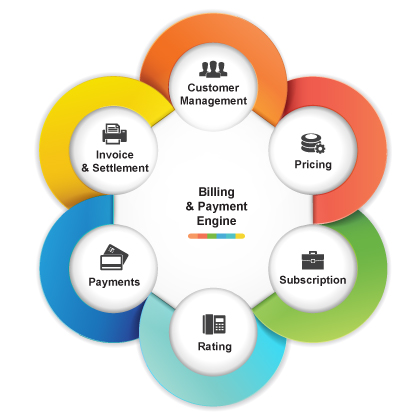 Application and User Provisioning and Administration
The Jamcracker platform provides self-service provisioning of users and apps (services). Users can access the self-service catalog and order any on-boarded service; the platform automatically provisions the application or service and then sends an email notification.
Jamcracker manages users' identities, providing them with timely access to applications and data. The platform streamlines account setup and deactivation, synchronizing of user attributes with directories, and self-service access requests for on-premise apps and cloud services.
Save on IT costs with self-service apps provisioning.
Deliver a seamless user experience.
Track app licenses efficiently: bought vs. consumed.
Enable rapid user provisioning and de-provisioning.
Centralize management and provisioning control.
Leverage on-premises, cloud, and hybrid directories to enforce identity-based policies throughout the app lifecycle, from initial provisioning to account termination.
Delegate user and service administration to lower tiers and/or special Roles.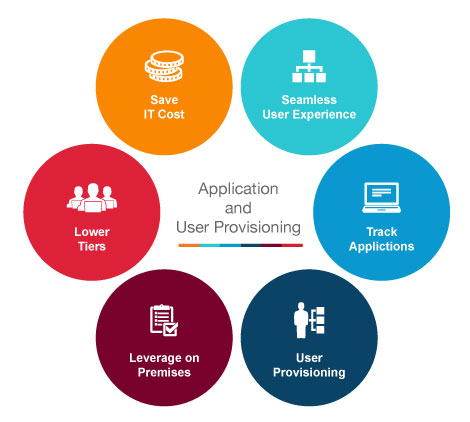 Identity and Policy Management
Identity and policy management is easy to define, but difficult to enforce. Systems evolve, users come and go, and existing users' privileges change as their jobs change. Without automated identity policy enforcement, violations can go undetected for months or years, leading to significant security risk.
Jamcracker's automated solutions enforce access policy proactively and detect existing violations in your environment. Business and IT managers can quickly and easily define access policies, using a point-and-click interface.
External directory and database integration: Integrate with existing LDAP directories (e.g. AD, ADFS, and RedHat directory) as the identity provider and/or databases for user authentication and authorization, while supporting integration with external authorization services.
Single sign-on: Users log-in to the dashboard to access all services with a single set of user credentials.
Enterprises can manage and govern their cloud services using the Jamcracker Platform's policy framework.
Rules can be defined to manage critical business processes and automate tasks.
Jamcracker supports policy creation for managing and monitoring compute products, and facilitates capacity/resource planning.
Jamcracker also supports policy creation for users, service provisioning, SLAs, security related policies, billing/chargeback policies, etc.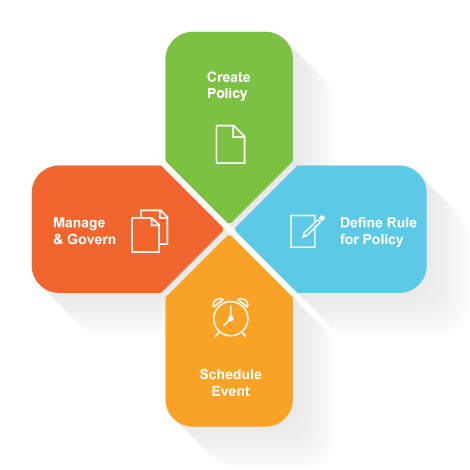 Budgeting and Spend Management
The Jamcracker Platform provides governance and spend management for cloud services by letting IT track every expense from beginning to end, including IT costing, chargeback, and showback.
The Jamcracker spend management system provides visibility into cloud usage vs. budget. It provides a granular view of cloud usage for each provisioned workload, allowing users to view usage data via interactive graphs. Users can analyze current usage data and even visualize projected cloud services spend for a specific timeframe, and compare it with budgeted amounts for departments, LOBs, etc.
Jamcracker's cost-tracking capability uses current and historical usage data to estimate future trends. The budgeting system can set usage thresholds and send alerts when the thresholds are exceeded.
Allow flexible cloud services budgeting and track utilization.
Receive notifications when budgets are likely to be exceeded and prevent further usage (administrators can be empowered to override cutoff).
Generate utilization show-back reports.
Integrate with financial systems for additional governance.
Generate a consolidated single bill or chargeback statement, using the show-back and utilization data provided by the spend management system.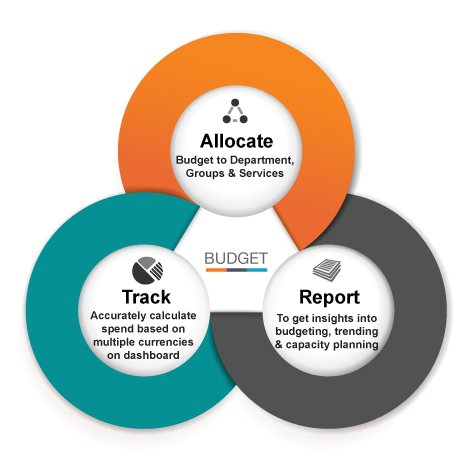 Services Catalog Management
The Jamcracker platform offers a multi-tiered content management system-based catalog, providing the flexibility to onboard and aggregate wide-ranging cloud services (SaaS, PaaS, and IaaS) and the ability to customize the layout of the marketplace.
Services catalog management lets enterprises and service providers showcase services offered by your IT department or display in one place all of your products and services. It also allows you to promote your offerings, with easy navigation that encourages customers to access the self-service catalog.
Define, create, and publish IT services and service bundles. You can show a service description, image, marketing collateral, and cost with each service, and end users can choose from this list when submitting their Web-based service requests.
Publish content for various services and associated offers, including both internally hosted services and those sourced directly from cloud providers.
Define service costs and pricing, such as vendors' wholesale costs or internally hosted services' cost allocations, reseller transfer costs, or other cost allocations—e.g., by business unit and retail pricing or internal user cost allocations—while supporting subscription, metered usage, one-time fee, and other pricing models.
Allow users to compare, order, manage, access, and track usage of compute, storage, load balancing, firewall, networking, and migration of workloads services from a single catalog, from multiple cloud service providers, such as Amazon Web Services, Microsoft Azure, OpenStack, VMware, CloudStack, and Rackspace Cloud.
Standardize how services are ordered and delivered, and reduce unnecessary and time-wasting processes.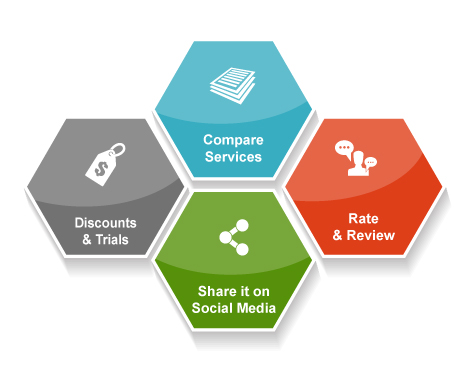 Extensible Reporting Framework
JSDN reporting framework provides comprehensive solution for all forms of reporting needs. The framework comprises of two types of reports. A set of standard reports which are shipped with the product and other which empowers customers to create their own custom reports as per their business needs. The framework allows customers to build, generate, save, edit and delete reports. With the "Data level RBAC" mechanism, sensitive data will be hidden by providing better security for the report data, based on user role. The Framework has the capability to offline large reports and notifies respective users to download the report without impacting system performance.
Highlights
Empower Customers

Ability to build, generate, save own reports.
Build once and share the report templates to multiple users.

Centralized Reporting Data

Abstraction and consolidation of reporting data from heterogeneous live data sources.

Security

Isolate and secure live business data at reporting layer with "read only" access.
Ability to encrypt or mask sensitive data rendered to reports.
Audit report usage patterns and data accessed.
Ability to track reports created, modified, viewed, deleted with report data accessed.
Control data accessed by "Data Level RBAC" to hide data rendered to reports.

Integration and Flexibility

Simplify data access for external integration such as billing, budget feeds etc.
Easy integration with 3rd party reporting tools like Tableau, Pentaho, Jasper, SiSense etc.
Flexibility to configure large reports for email notification to download and view offline.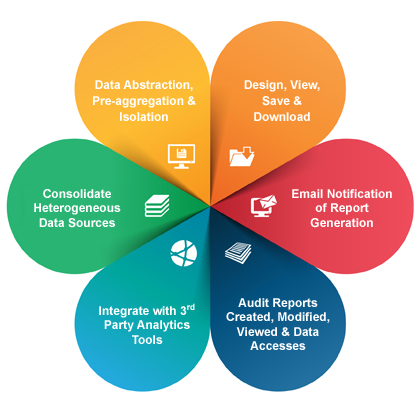 Monitoring and Dashboard
One of the major challenges of managing cloud resources is identifying and resolving cloud infrastructure performance issues. IT needs to monitor resources continuously and identify and resolve these issues promptly.
The Jamcracker Platform helps identify problems before they arise, by allowing virtual machines to be monitored continuously. It captures information such as CPU and RAM utilization, physical memory usage, network bandwidth I/O utilization, disk I/O utilization, and more. The platform also includes graphics and dashboards that allow complete visibility and control over performance, availability, and capacity utilization.
Dashboards provide visibility into the organization's cloud usage and allow users to view usage data via configurable widgets that display granular views of the data for every provisioned workload.
Users can analyze current usage and even visualize the projected IaaS spend for a specific timeframe, while the multi-level cost-tracking capability provides current and historical usage data to estimate future cost trends.
Monitoring information supports root-cause analysis, bringing controlling and preventative maintenance capability of cloud resources.
Alarms/notifications can be auto-generated for predefined usage thresholds and monitoring parameters.
Supports seamless integration with other monitoring applications.
Notifications are rules-based and can be configured/customized.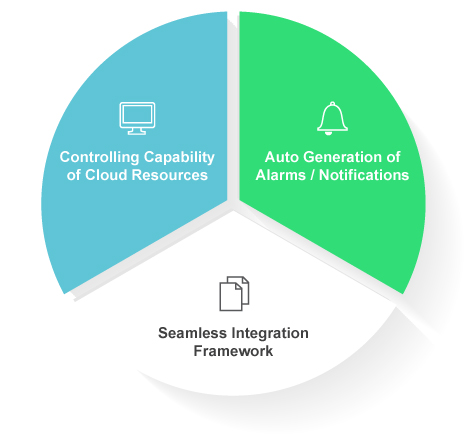 Cloud Orchestration and Delivery
If you have numerous IaaS cloud services to deliver to your customers, you need a provisioning and orchestration framework that can support multiple clouds and transform your IT department into a self-service organization that can automate, configure, and provision cloud resources from any cloud with just a few clicks.
Jamcracker's IaaS orchestration and delivery automates the deployment and management of infrastructure services and applications across public, private, and hybrid cloud environments. Enterprises can deliver infrastructure services faster, by managing resource usage, availability, scalability, performance, and more.
Orchestrate multi-cloud infrastructure services, such as compute, storage, load balancers, firewall, networking, etc.
Simplify, automate, and optimize service deployment by accelerating delivery of cloud capabilities across various environments and infrastructures.
Manage virtual-machine sprawl, using policy-based tools to automate high-scale provisioning and de-provisioning of resources.
Achieve greater efficiency, control, and scalability, by designing, launching, and managing cloud workloads (AppStacks) through a single drag-and-drop GUI.
Provide users with load balancing, firewall, networking, autoscaling, cloudbursting, snapshot, backup/restore, and disaster recovery services.
Track cloud services usage from various cloud providers; perform analytics on the usage data; and use the data to generate show-back/charge-back information based on usage by departments, BUs, LOBs, and agencies.