Tuesday, January 12, 2016
January is that time of year for "bold predictions", so here's one for 2016: The line of distinction between "cloud" and "on-premise" IT will begin to fade away.
Why? As enterprises increasingly evolve to a "Hybrid IT" architectural model, IT's charter will be less around operating and maintaining on-premise applications and infrastructure and more about cloud-enabling their legacy IT systems, delivering their own cloud-based services, and brokering 3rd party cloud providers.
Or from a business perspective, cloud's biggest impact to enterprise IT will not be around the technology aspects, but rather how it will either evolve (and disrupt) IT's traditional operational and business models*.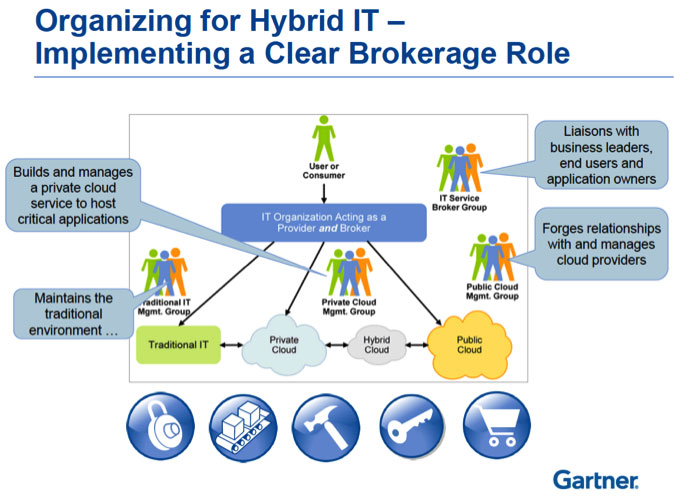 Extensibility and Adaptability – the Key Enabler for Hybrid IT
One of the things we're very proud of at Jamcracker is our platform architecture, and more importantly the inherent capability to extend and enhance it. We've architected it to enable integrations that span from infrastructure to application (and of course mobile) services — regardless of whether they are operated as public, hosted private, or on-premise services.
For IaaS, our integration framework is based on OpenStack-defined standards (e.g. Nova, Heat, Cinder, Neutron, etc. for Compute, Storage and Networking), which are increasingly becoming the "lingua franca" for how different infrastructure services are being provisioned and managed within a unified cloud life-cycle delivery and management context.  Our "out-of-the-box" integrations include native support for OpenStack as well as connectors for Amazon Web Services, Microsoft Azure, VMware, Backspace, and CloudStack — which covers roughly 90% of the IaaS market — plus we provide integration tools for customers/partners who want to add any other services.  And with networking, we've tied into major telcos' MPLS networks plus have done network policy management integrations with major equipment providers, e.g. Cisco and Juniper.
In terms of SaaS, over the years we and our ISV partners have developed well over a hundred different provisioning/SSO connectors to various enterprise and SMB oriented SaaS services, and given our unique capability to provision services stacks at both the infrastructure and application layers, I could try to be clever and claim that we support any of the hundreds/thousands of application images that already exist for AWS, VMware, OpenStack, etc…  But I won't.
In contrast to IaaS, where the number of providers are consolidating to 2-3 major ones, the number of cloud-based application services (SaaS or virtualized cloud apps) is growing exponentially beyond the thousands and thousands of SaaS/Cloud-based app services that exist today. So our strategy here has been (and will continue to be) to support a wide array of different user and application-level provisioning / SSO integration standards such as SAML 2.0 (plus earlier versions of SAML — Jamcracker was one of the co-authors of the original SAML specification), Oauth 2.0, OpenID Connect, and various web services (including XML, SOAP, REST protocols).  And in addition to supporting these standards, we provide the tools to enable/simplify service on-boarding — not only of SaaS providers that we may not have already connected to, but also so enterprises can on-board their own cloud-based application services that IT/DevOps will increasingly develop themselves (in other words, enterprise IT organizations will increasingly think and act like cloud providers themselves.)
For on-premise integrations, we have exposed hundreds of RESTful APIs so that any of our major platform functions (e.g. catalog management; provisioning; authentication, authorization and access control; billing; user management; policy management; etc.) can not only operate on their own but also be extended/integrated with different on-premise assets such as databases, directories, finance & accounting systems, BI tools, help desks, web portals and content management systems, etc.  A typical scenario for us in an enterprise setting would be to connect our platform's user and policy management module to their Microsoft Active Directory (could be on-premise or hosted via Azure Active Directory versions) or other LDAP-enabled directory for integrated user and policy management, and our unified billing engine to an ERP or finance/accounting system (e.g. SAP) for enabling charge-back accounting to different departments of their IaaS, PaaS, or SaaS (or other service) usage — including subscription as well as metered-usage billing scenarios.
The Era of Hybrid IT is Now
Cloud is a means to an end, but not an end in itself. Leveraged appropriately, cloud-based technologies and business models will enable IT to become "leaner and meaner", so that they can deliver value to their LOBs "better, faster and cheaper", while from a budgetary standpoint "doing more with less."
Welcome back to the future.
*We recently did a webinar on this topic – a recording is available here.