Google Cloud Governance and Cost Management
Jamcracker Cloud Management Platform integration with Google Cloud offers Google Cloud Management solutions, enabling channel partners and enterprise IT brokers to readily offer a holistic managed Google Cloud offerings. It provides full visibility and control of public cloud resources, visibility of cloud costs, governance, monitoring, secure access, audit and provide a single bill and settlement.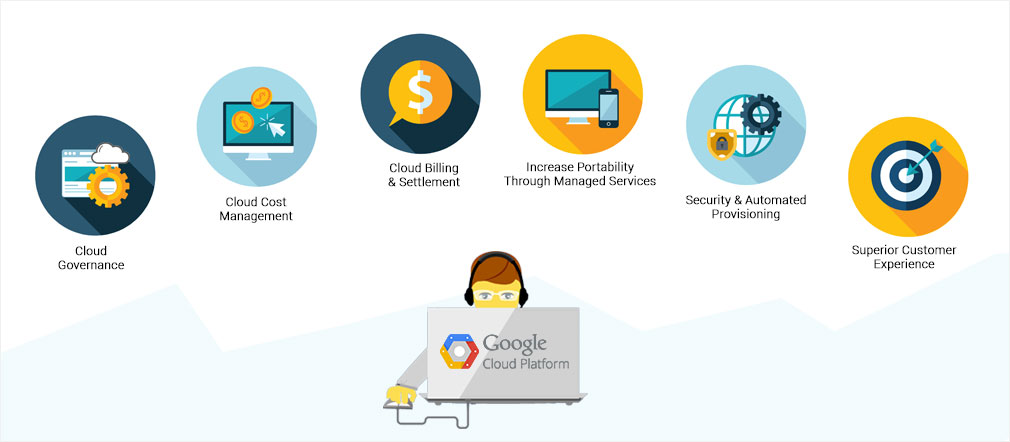 Benefits of Jamcracker Google Cloud Management Solution
Google Cloud Governance
Offer continuous visibility and control of Google Cloud to customers using Jamcracker platform's governance tools including dashboard, interactive charts, usage analytics data and ready reports depicting Google Cloud Orders, Billings and Usage down to resource, user, department or customer level granularity and track budgets against plan and provide daily summaries by email.
Google Cloud Cost Management
Control Google Cloud cost by providing visibility of Google Cloud usage and utilization. Using Jamcracker's Cloud Policy engine, specify Google Cloud cost management policies to curtail Google Cloud cost and enforce approval workflows. Visual reports and 'what if' analysis tools enable easy identification of underutilized / unutilized resources.
Simplify Google Cloud Billing And Settlement
Our billing engine enables consolidated billing and managing multiple linked accounts for better control and settlement across various divisions. Use Tags to track usage against departments and projects providing accurate chargebacks.
Increase Profitability Through Managed Services
Create managed service offers with 24 x7 support, monitoring, patch management and deployment to create superior upsell and cross sell opportunities while increasing profitability and margin expansion. Bundle additional public or private cloud services options such as Azure, vmware and Openstack as well as hundreds of pre-integrated SaaS services including Office 365, to become a one stop shop for your customers cloud management needs.
Security And Automated Provisioning
Jamcracker's Google Cloud ready platform enables customers to automatically and seamlessly purchase a variety of Google Cloud services in just a few clicks. Single Sign-on through Active Directory or Active Directory Federation Services (ADFS) or SAML simplifies Google Cloud access management, compliance, audit and control.
Superior Customer Experience
Provide white-labeled storefront/marketplace and a custom catalog to provide a delightful self-service user experience for customers to consume cloud services.