IBM Cloud Governance and Cost Management
Jamcracker Cloud Management Platform integration with IBM Cloud offers cloud Management solutions, enabling channel partners and enterprise IT brokers to readily offer a holistic managed cloud offerings. It provides full visibility and control of public cloud resources, visibility of cloud costs, governance, monitoring, secure access, audit and provide a single bill and settlement.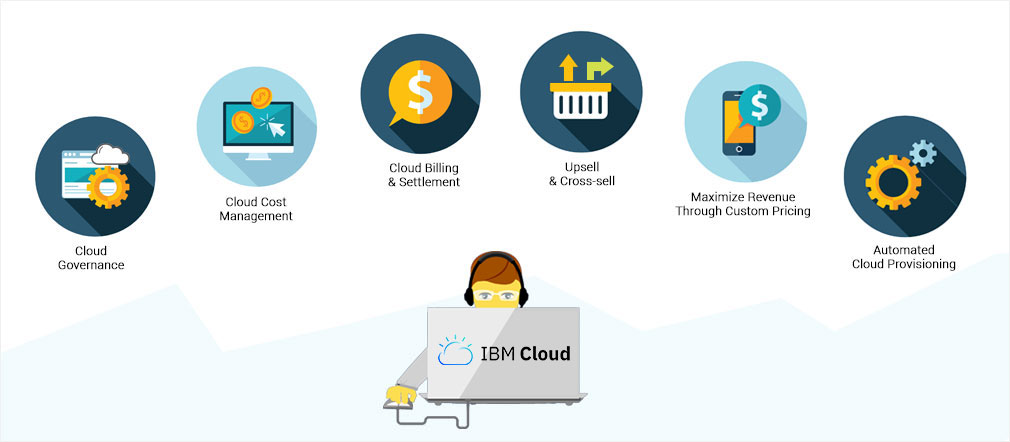 Benefits of Jamcracker IBM Cloud Management Solution
IBM Cloud Governance
Offer continuous visibility and control of IBM Cloud to customers using Jamcracker platform's governance tools including dashboard, interactive charts, usage analytics data and ready reports depicting IBM Cloud orders, billing and usage down to resource, user, department or customer level granularity
IBM Cloud Cost Management
Control IBM Cloud cost by providing real time visibility of IBM Cloud usage and utilization. Using Jamcracker's cloud policy engine, specify IBM Cloud cost management policies to curtail IBM Cloud cost and enforce approval workflows.
Simplify IBM Cloud Billing And Settlement
Obtain accurate billing data from IBM Cloud services and generate a consolidated cloud usage invoice per individual customer or user level. Reconcile aggregate IBM Cloud usage with cloud services billed by IBM through IBM Cloud Settlement Report.
Maximize Revenue Through Custom Pricing
Quickly create custom price plans for different customers to maximize IBM Cloud revenue opportunities
Increase Profitability Through Upsell And Cross-sell
Bundle additional public or private cloud services provider options such as Amazon, vmware and Openstack as well as hundreds of pre-integrated SaaS services including Office 365, to improve overall gross profit margins.
Automated IBM Cloud Provisioning
Jamcracker's IBM Cloud ready platform enables customers to automatically and seamlessly purchase a variety of IBM Cloud services in just a few clicks. Single Sign-on through Active Directory or Active Directory Federation Services (ADFS) simplifies IBM Cloud access management, compliance and control
Superior Customer Experience
Provide white-labeled storefront and a custom catalog to provide a delightful self-service user experience to customers to consume IBM Cloud services