Jamcracker cloud billing and payment system brings automation to offers rating, billing of services, invoicing of consumptions and third party settlement processes. With the option of integration of in use accounting, reconciliation and other financial systems, service providers or enterprises can easily adapt Jamcracker system to their monetization ecosystem. Consumption can be billed based on subscription or usage. Rating engine tallies rates and tariff information from the offer configuration and then generates invoices. Billing functionality reconciles payments against invoices and triggers collection processes when applicable. To collect payments online, it can also interface with various payment channels in real time.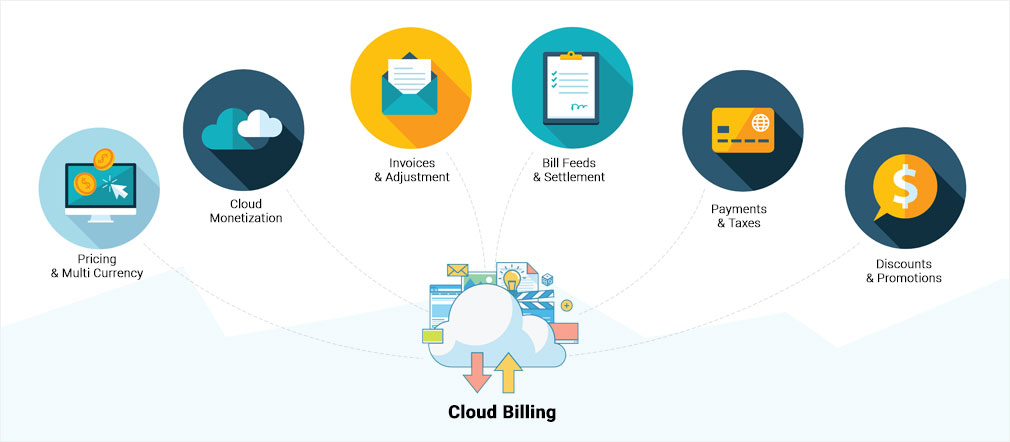 The Billing Engine
Use Jamcracker platform billing engine independently or integrate with external billing systems to support subscription metered usage, one-time fees, tiers, and other pricing models.
Enable customers to adopt Infrastructure services with a true usage-based billing consumption model built into the platform with seamless integration to cloud providers like AWS, Azure and others.
Integration with third party tax engines to obtain tax rates and amounts dynamically—or define the tax information in the billing platform.
Configure the billing solution for volume discounts, tier-based increases, and/or thresholds and groupings you define at the product, package, market segment or individual customer level.
Monetization Models - Supports flexible cloud monetization models that can handle subscription based, usage based, user based models or a combination.
Cloud resellers and partners can generate a single bill for all cloud services consumed by the customer. The data is aggregated from multiple providers along with subscription and usage details. IaaS resource charges on the invoice pertains to all cloud resources consumed by the account either from within the platform or ordered directly in the vendor console, and is displayed with granularity to help your customers analyze the cost and consumption. SaaS service details are indicated with prorate, recurring charges, discounts or trials offered and taxes incurred.
Features
Charge via credit/debit cards/pre-approved line of credit and with the option of exporting data which includes cost-allocation information for external financial and accounting systems.
PayPal and Braintree as default Payment Gateways and provides support for integrating with your own payment gateway/s.
Integration with Amazon AWS, Azure CSP & Azure Stack, Google Cloud, IBM Cloud, VMware, OpenStack etc. to receive real-time billing data, consolidated for reporting, auditing, optimization, chargeback, and other needs.
Supports multiple billing cycles, invoice templates, rate-plans, promotions, discounts and differential pricing for different levels
Rating model for subscriptions and metered usage, blended/bundled rates and complex or rule based tiered pricing
Supports sharing the complete billable data using a Bill feeds file. This can be passed to external applications for downstream processing or further analysis and reporting.
Review and settle with the different parties in a cloud ecosystem (Cloud Service Providers, Cloud Marketplace, Cloud Store Resellers/Partners and the customers) based on the data provided in the Settlement Report generated from the Cloud Management Platform.
For enterprise IT, run charge-back/show-back reports manually or automatically to help with cost allocation across departments or business units.