Google Cloud Platform (GCP) Integration
With Jamcracker's Google Cloud Platform (GCP) integration, organizations can successfully unify their business cloud administration to ensure better accessibility, visibility, automated provisioning, billing, cost optimization, customer experience enhancement, and much more.
Jamcracker's Google Cloud Platform (GCP) integration serves enterprise cloud needs with distinguishable ROI.
Jamcracker's cloud management platform helps enterprises leverage the best cloud management toolchains and solutions available in the market. The Google Cloud Platform (GCP) is no exception to this rule.
Businesses rely on Google's cloud services to inherit and implement innovative cloud governance, automation, security, cost management within their processes. Jamcracker's Cloud Brokerage and Management services help enterprises digitally transform their Google Cloud Ops.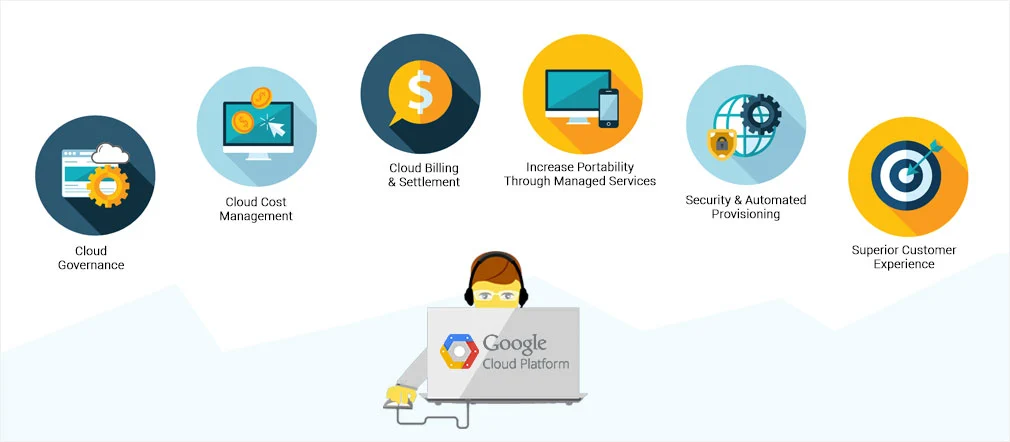 Google Cloud Platform (GCP) Integration with Jamcracker
Provides constant visibility and control of Google Cloud to customers using governance tools available in Jamcracker's platform.
Jamcracker's Cloud Policy engine makes sure to curtail Google Cloud cost by implementing Google Cloud cost management policies.
Enables consolidated Google Cloud billing and management for better control and settlement across varied divisions.
Helps increase profitability through managed services.
Jamcracker's Google Cloud ready platform enables customers to purchase a variety of Google Cloud services. A secured sign-on through Active Directory or Active Directory Federation Services (ADFS) or SAML simplifies Google Cloud access management, Google Cloud compliance, Google Cloud audit, and control.