Enterprises, Hosters or MSPs their IT administrators require fully-automated self-service experience to their operations team and internal users for private cloud out of virtualization stack such as VMware vCenter. The self-service convenience provided by public cloud providers have created a need of self- service portal for all including their external customers and mandates to be available over the internet.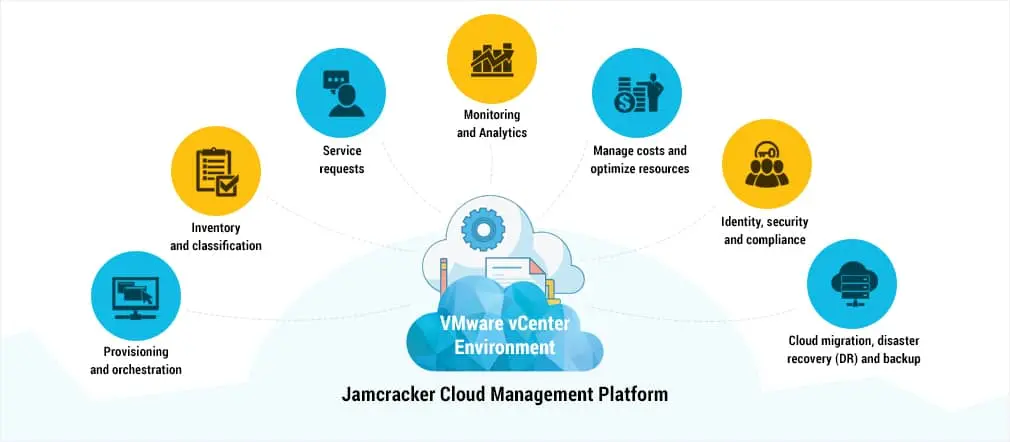 It is not enough for an OEMs cloud platform to address end to end need hence meaningful integration with substantive support of managing a virtualized environment is key for any third party Cloud Management Platform.
Jamcrackers offers deep technical and business integration with VMware vCenter environment to provide cloud governance by automating, both IT Operations and Financial operations. The key highlights of the integration of Jamcracker Cloud Management Platform with vCenter includes customers account mapping, provisioning and lifecycle management of infrastructure resources like Compute, Block Storage, Block Volume, Disks, NFS - Data Stores, Network, NSX-T, Distributed Switches, Load Balancers, etc. Customers can manage NFS-Data store and can trigger events like mounting datastore for vCenter, ESXI etc. It also supports vApps, resource tagging and doing Back-up and Restores. VApps support is extended to create application template along with policies of IPs allocations, resource mapping etc. The business integration supports financial governance like show back, chargeback, and billing and analytics dashboards.
Delivering Key benefits from Jamcracker platform for every stakeholder considering their unique requirements.
Enterprises:
Simple to set-up and connect with the existing vCenter environment.
Self Service Appstore to provision vCenter resources.
Life Cycle management using IaaS console of the Cloud Management Platform.
Flexibility to define IT Governance policies to monitor and automate tasks.
Flexibility to define Financial Governance policies to do spend management.
IT can create resource pool and do capacity allocation of vCenter resources at VM level, project level or department level.
Central IT can create department level, LOB level, or a project level chargeback.
Supports BYOS (Bring Your Own Script) via DevOps integration for developers, architects, and IT Ops community.
Executive Dashboards to monitor, manage, and forecast spending.
MSPs & Hosters
Jamcracker Platform makes it incredibly easy to set up a vCenter account and in-turn to sell the resources.
Define a rating plan for resources and bill the customers through the platform.
Flexibility to define billing model, charge customers based on subscriptions. You can charge fixed monthly or usage-based.
Collect money by using various payment methods.
Can provide Self-Service portal to the customers to order and manage resources.
To Know More About VMware vCenter