Grow Your Microsoft Azure Cloud Business with Jamcraker's Digital Marketplace
Jamcracker's Digital Marketplace integration with Microsoft Azure offers various Azure Service Management APIs including ARM, CREST and GRAPH, enabling channel partners and enterprise IT brokers to readily offer holistic managed Azure offerings. Jamcracker provides full visibility and control of public cloud resources, visibility of cloud costs, governance, monitoring, secure access, audit and provide a single bill and settlement.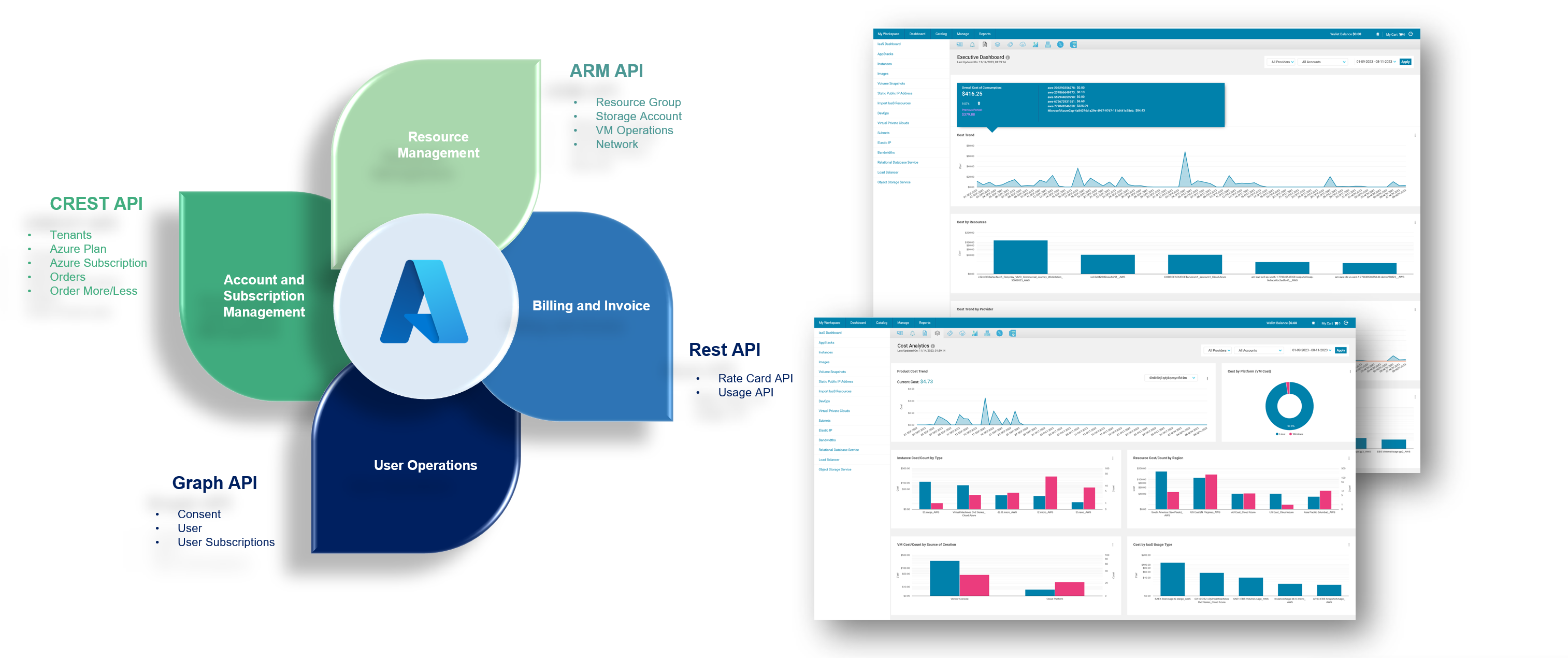 Manage Microsoft Azure Cloud Better with Jamcracker's Digital Marketplace
Prebuilt integration to support all of the Microsoft Agreements.
Fully automated Tenant creation and existing Tenant mapping.
Fully automated Azure Plan and Subscription creation and mapping.
Fully automated provisioning and orchestration of Azure resources.
Self-service portal allowing customers to purchase a variety of Azure cloud services in just a few clicks.
Azure Cloud cost management by providing real-time visibility of Azure Cloud usage and utilization.
Enables Azure Cloud Governance through the use of governance tools which include details of usage analytics data and ready reports depicting Azure orders, billing, and usage details.
Jamcracker's billing engine provides an accurate billing data from Azure cloud services and generates a consolidated Azure cloud usage invoice.
Reconcile aggregate Azure cloud usage with Azure cloud services billed by Microsoft through Azure settlement report.
Jamcracker's DevOps Automation helps in accelerating the IT automation by automating cloud provisioning, Azure configuration management, application deployment, intra-service orchestration, and several other IT necessities. It provides an easy and efficient way to run necessary scripts and launch relevant resources on Azure.
Helps maximize and optimize Azure cloud revenue opportunities by quickly creating customized price plans for different customers.
As a Indirect Partner manage your resellers
As a Direct Partner or as a Reseller manage your Tenants, their Subscriptions and their Billing.
Supported Ecosystem of Microsoft Relationships
Jamcracker Digital Marketplace provides end to end automation of variety of Microsoft relationships. Following are supported by the standard product.
Microsoft CSP Direct Reseller (Tier 1)
Microsoft CSP Distributor (Tier 2) / Indirect Provider
Microsoft CSP Indirect Reseller
Microsoft EA (Enterprise Agreement)
Microsoft CASA (Campus and School Agreement)
Microsoft PayG (Pay as You Go)
Jamcracker Supports Microsoft Azure Stack
Jamcracker's Digital Marketplace offers integration to Microsoft Azure Stack which enables service provision, Azure Stack billing via a variety of billing and chargeback models. The lifecycle management of an entire cloud is offered from a single pane of glass in an aggregate hybrid environment.
Jamcracker's Digital Marketplace supports both connected and disconnected modes of Azure Stack and enables a unified view of the resources in Azure public and Azure stack environments.

The Multi-tenant architecture of Jamcracker's Digital Marketplace offers the comfort of visualizing various dashboards and analytics of this hybrid environment, be it resource cost or utilization.
The Marketplace automates and supports the following aspects:
Fully automated Tenant creation and existing Tenant mapping.
Fully automated Azure Plan and Subscription creation and mapping
Automation of Azure Stack configurations that is resource groups, availability sets, network, storage, etc.
Azure Stack VM lifecycle management.
Azure Stack billing.
Key Supports in Azure Stack Integration
Analytics dashboards and reports helps monitor usage & cost trends by different metrics.
Leverage cloud policies to govern resources and manage cloud spend with real-time alerts.
Jamcracker's DevOps Framework provides Ansible, PowerShell and other scripts for adding to the growing library of resources.
LDAP & SAML Integration, RBAC - Authentication, Authorization & Access Control for users.
Marketplace with customizable Storefront for e-commerce.