G Suite is a package of services that can be used by all kinds of businesses. Based on the need of the organization, various solutions are made available by Google to choose from. Business Organizations can avail G Suite as packaged editions namely Basic, Business, Enterprise. G Suite can also be availed by Education/ institutions under G Suite for Education program. G Suite for Education is packaged as G Suite for Education, G Suite Enterprise for Education. While G Suite for Education is free, G Suite Enterprise for Education is a paid version and only available under a partner program.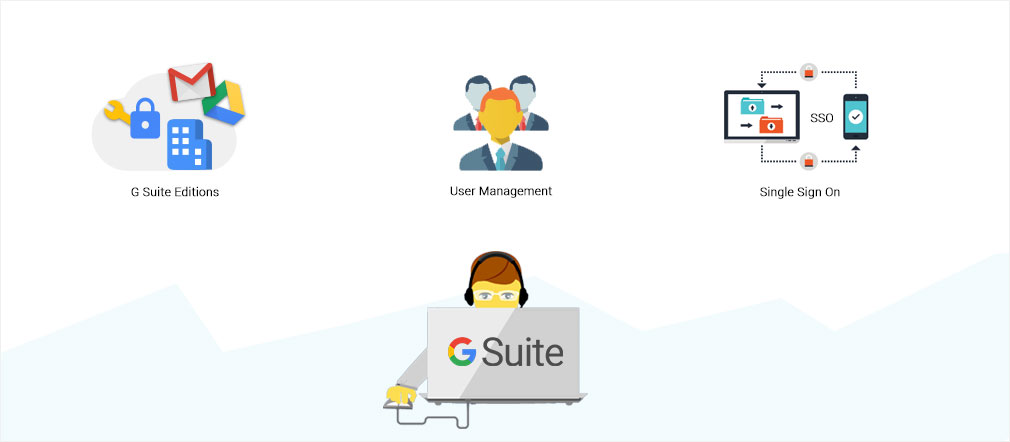 G Suite in Jamcracker Platform
G Suite Editions
Jamcracker Platform offers the following G Suite editions in its catalog.
G Suite Business
G Suite Enterprise
G Suite for Education
Businesses/Institutions that have a G-Suite subscription under one of the above mentioned edition will be able to map the details of their G-Suite account through the Jamcracker Platform.
User Management
New users can be added to avail G Suite account via Jamcracker platform.
Existing users available on G Suite application can be mapped for user management in the platform.
Ability to unassign existing users from using the G Suite services using the Jamcracker Portal. Users can also be deleted from the G Suite portal, the user will not be able to access services directly from G Suite console.
Single Sign On
Once the profile / order has been successfully provisioned to the customer in the platform, the administrator will be able to assign G Suite licenses to existing users by creating the user account. For new users, assign service activity will take care of assignment of the license to the user. All users created and assigned with G Suite service will have the ability to SSO to G Suite application.