Hybrid Cloud Management
Jamcracker Hybrid Cloud Management Solutions simplifies managing public cloud and private cloud such as AWS, Microsoft Azure, Microsoft Azure Stack, Google Cloud Platform, IBM Cloud, OpenStack, and VMWare vCenter from single pane of glass.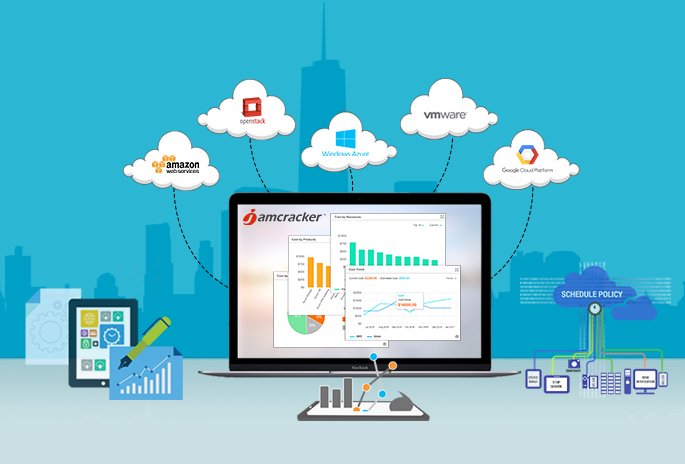 End to End Cloud Management Solution
Organizations can manage multi cloud services with an end-to-end cloud management solution and unified billing.
Jamcracker lets you build a multi cloud environment with the much need control without sacrificing business agility.
Jamcracker integrates the disparate cloud environments and allows you to control your cloud resources with purpose-built automation, orchestration, policy enforcement, and management tools.
Helps IT to rein cloud sprawl while enterprises adopt cloud services across the organization.
Provides Comprehensive visibility of cloud costs.
Building and Managing the Hybrid Cloud Model
Build, manage, and govern your entire cloud ecosystem while retaining control of your IT environment, and send non-mission-critical workloads to the public cloud to take advantage of its flexibility and scalability. Manage multiple cloud providers from a single console.
Multi Cloud Management
Achieve greater flexibility and choice for enterprise IT when deploying and managing a multi cloud environment, by using self-service capabilities and governance to avoid vendor lock-in. Monitor usage, performance, and costs across multi cloud environments.
Multi Cloud User Management
Control access to cloud services, and proactively define and enforce enterprise-wide access policies and privileges. Apply automated authentication and authorization policies for both privileges and end-user access. Automatically provision and de-provision user accounts and access rights across diverse servers, including propagated blocking of AD users.
Multi Cloud Billing Management
Consolidate your cloud spend with a single point of billing. Optimize cloud setup with unified cloud resource usage, metering, and billing, which works seamlessly across single and hybrid cloud deployments. Monitor and govern resource utilization and cost across all of your IT infrastructure.
Open Standards Architecture
Develop, deploy, and deliver services on OpenStack and other private/public clouds using an open standards architecture. Enterprise IT can now manage and deliver cloud services ranging from infrastructure to applications. Adopt a multi cloud strategy easily using standard architectures such as OpenStack, AWS, Azure, and others.
Manage Multiple Cloud Services
Now you can use public and private IaaS cloud technologies from market leaders such as Amazon Web Services, Azure, and VMware. Public clouds: Amazon Web Services, Microsoft Azure, Google Cloud, IBM Cloud etc. Private Clouds: Microsoft Azure Stack, VMware vCloud Director, OpenStack, VMware vSphere, CloudStack etc.