If you are a Google Cloud Partner reselling GCP or a MSP (Managed solution provider) leveraging Jamcrackers Cloud Management platform you can offer best of the IT solutions to your customers.
With the enhanced Jamcracker GCP reseller support program, you can effeciently manage Google cloud infrastructure, reduce cloud cost and provide long term stratergic guidance to your end-customers and transform their business through Google Cloud Technology.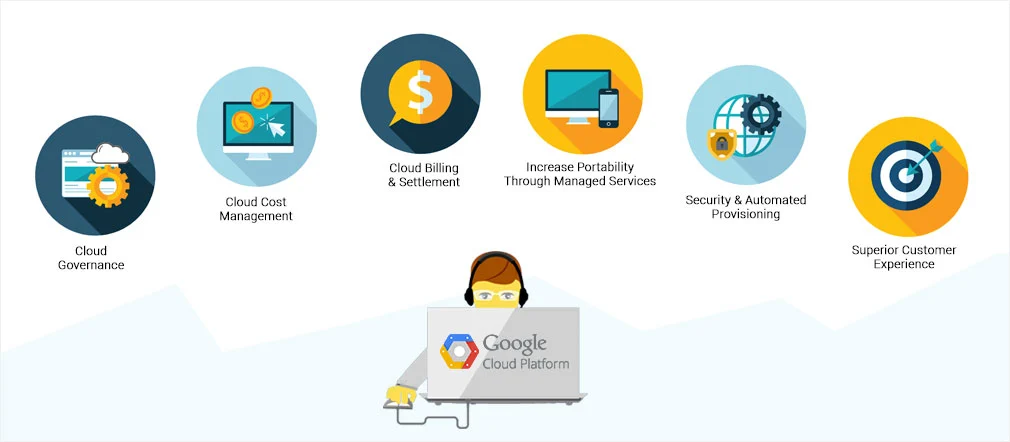 It is not only about getting customers to the cloud but it's equally about helping customers operate and innovate in the cloud to maximum business benefits.
According to the recent International Data Corporation (IDC) study - Partners' revenue from Google Cloud-related opportunities will more than triple by 2025, Google Cloud partners are expected to generate $5.32 USD in revenue for every $1 of Google Cloud products sold, which is expected to increase to $7.54 by 2025.
According to Gartner, "In mature economies, 45% of large organizations have engaged with MSPs for cloud-native architecture and operations; this will increase to 61% by 2026."
To capture this opportunity, Google Parnters and Managed service providers must be equipped to not only meet this growing need but also have a system in place using which cloud solutions, not only Google but multi cloud solutions can be offered to your customers for better accessibility, visibility, automated provisioning and ensure accurate, timely and segmented billing along with usage reports are delivered to your customers.
Jamcrackers Google Cloud Platform integration serves reseller and enterprise cloud needs with distinguishable ROI
Some of the features available on Jamcracker Cloud platform for reselling Google Cloud Platform
Provides ability to your customers to self order Google Cloud Platform and create a billing subaccount for the customer.
As a Reseller or MSP Google Cloud Platform order can also be placed on behalf of the customer and create a billing subaccount for the customer.
View and manage your Google Cloud Platform customers by their name and domain.
Your customers can self launch/provision Google Cloud resources and manage them on the Jamcracker cloud platform vendor matrix.
As a Reseller or MSP Google Cloud resources can also be created and managed on belf of the customer.
As a Reseller or MSP using or roll based access control grant your team access to customer account and billing information
Your customers can use extensive governance/analytics and reports that the platform provides to optimize Google Cloud Platform resources and spending.
As a Reseller or MSP the platform provides ability to bill the customer and close unused billing subaccounts.
The ability to resell will be especially beneficial to partners aiming to resell Google Cloud Platform along with other Cloud Services like AWS, Microsoft Azure, Huawei Cloud etc. and present one consolidated provisioning and management console along with a consolidated bill to your customers.