Tuesday, December 27, 2022
Cloud Billing is the essential process that consolidates all the cloud charges for the customer, triggers advance recurring charges and invokes payment and invoices.
The Jamcracker Platform enables service providers and enterprises to set-up centralized or internal cloud service brokerage, management and delivery. The Platform provides capabilities to aggregate, manage and govern cloud services from multiple Cloud Service Providers.
Enterprises like government agencies, systems integrators, distributors, ICT service providers, technology providers, and managed service providers can all be enabled by the Platform to be central cloud management and delivery organizations – providing "IT-as-a-Service" to their customers like SMBs or enterprise having Internal IT departments.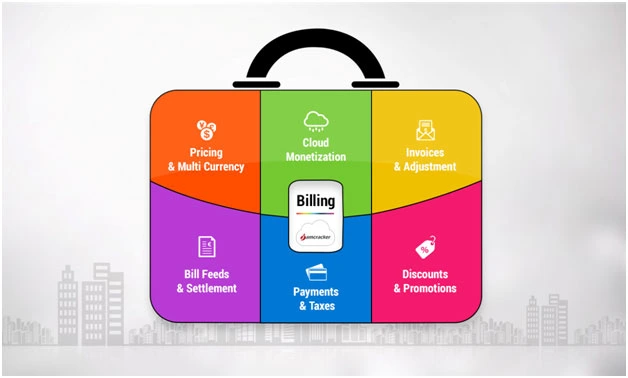 Key requirements to bill cloud services for the service providers are monetizing, and invoicing to their customers and in the same time giving ability to their enterprise users a cost governance feature. Jamcracker enables both enterprises and service providers to have an easy experience with all aspects of cloud billing.
CLOUD BILLING MODELS IN JAMCRACKER PLATFORM
The features offered by the billing engine in Jamcracker Platform are specifically designed by considering IaaS and SaaS services consumption in mind. IaaS billing constituents a bill which is generated based on the usage, however, Jamcracker's billing engine also supports a fixed monthly billing for IaaS if required. The SaaS billing is generated based on the number of licenses consumed, the number of licenses purchased and also provides a fixed and usage-based billing during the tenure of subscription. Apart from these we also provide PaaS billing which constituents' usage-based billing and fixed subscription or at times could be a combination of both. The Jamcracker cloud billing engine helps you organize and manage all your billing needs.
Jamcracker billing comprises of pricing , cloud monetization, invoices and adjustments, bill feeds, payments and settlements, taxes, discounts, promotions etc. Jamcracker Platform provides a wide range of IaaS and SaaS billing services with varied stupendous components.
On the whole, Jamcracker Platform supports the following models of billing:
Usage Based Billing Model
Fixed Subscription Based Model
Pay-Per-User Model
Combination of the above - Fixed Subscription, Usage and User Based Billing
THE JAMCRACKER CLOUD BILLING ENGINE
The price management in Jamcracker platform undergoes a process of identifying, defining, associating, persisting, and tracking price attributes of a cloud service. It supports following features:
Multiple Pricing Models
Different Price Points (e.g. Vendor Price, Wholesale Price, Minimum Retail Price, and Retail Price),
Globalization - the capability to support multiple currencies, Taxes and currency conversions
Trials, Promotions and Discounts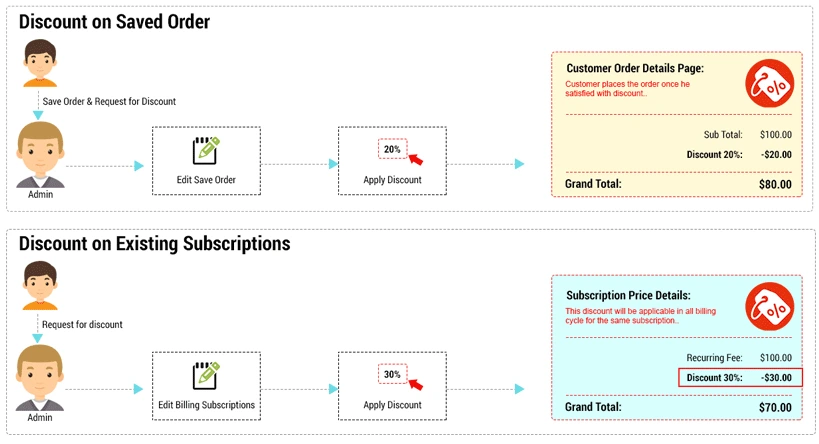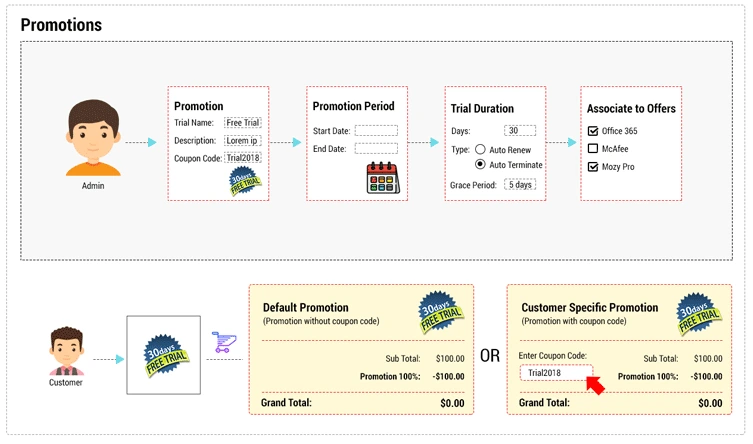 The varied pricing models in the Jamcracker billing support:
One time Charges
Recurring Charges
Setup Fee
Tier or Volume-Based Pricing
Usage Fee
Custom Charges
The billing in Jamcracker Platform enables administrators to use discounts and offers for any subscription that has been availed. Jamcracker Platform helps administrator's to configure the following billing options,
Currencies Supported at the Marketplace
Default currency of the Marketplace
Bill Generation Options
Cut off period for Usage Based Subscriptions
Configuration to display itemized statement as part of the invoice
The due date for Invoice based on the number of days from the Invoice date
Multiple Payment Methods
The Jamcracker Platform puts forth subscription management for the entire billing cycle. The subscription attributes supported by the Platform are,
Creation of billing subscriptions
Overview of billing subscriptions
Editing billing subscriptions
Reduction or cancelling subscriptions.
PAYMENTS
The most crucial step of the billing system is to generate invoices and trigger the collection of payments. Jamcracker Platform supports the following features when considered to payment:
Payment requests are triggered on the due date.
The Platform receives the payments and assigns payments to varied customer accounts and invoices.
Every aspect of collecting payment is recorded and portrayed in detail.
In case of credit card failures, it helps capture the reason.
Based on the configuration it automatically re-initiates the payment from the card irrespective of the number of times.
It displays and informs automated payment due notifications, late payment notifications and credit card payment success/failure notifications.
Provides complete back-end audit/event logs.
Provides role-based access control.
Supports multiple currencies in one platform.
When related to taxes, Jamcracker Platform can be linked with an external tax engine to derive tax amounts or, it can be directly portrayed within the Platform. In order to reconcile collection and payments , a settlement report is provided. It is mandatory for every cloud service provider to possess a report that indicates the total amount due for all their cloud services offered by the Jamcracker Platform. Likewise, an enterprise administrator is in need of a report that shows the total amount payable towards different cloud providers. An inter-party relationship is created and enables service providers for the settlement with CSP.
INVOICING
The major constitution of any billing is an invoice. The consolidated charges for the customer are being formulated and triggered via an invoice. Various invoicing models are available in the Jamcracker Platform. For example:
Monthly Invoicing
Same Day Invoicing
In case of need, relevant changes can be made to the existing bill. This is possible by allowing the billing system to re-rate the already rated itineraries. This happens when there are adjustments in the tariff.
CLOUD BILLING BILL FEEDS
Jamcracker Platform supports Daily Consolidated Bill Feed and Monthly Consolidated Bill Feed. The bill feeds that are sent out on a daily basis and is implemented when an organization makes use of 'Same Day' invoicing pattern, is known as Daily Consolidated Bill Feed, on the contrary when the organization agrees to receive its subscription on a monthly basis, the feed obtained is known as Monthly Consolidated Bill Feed.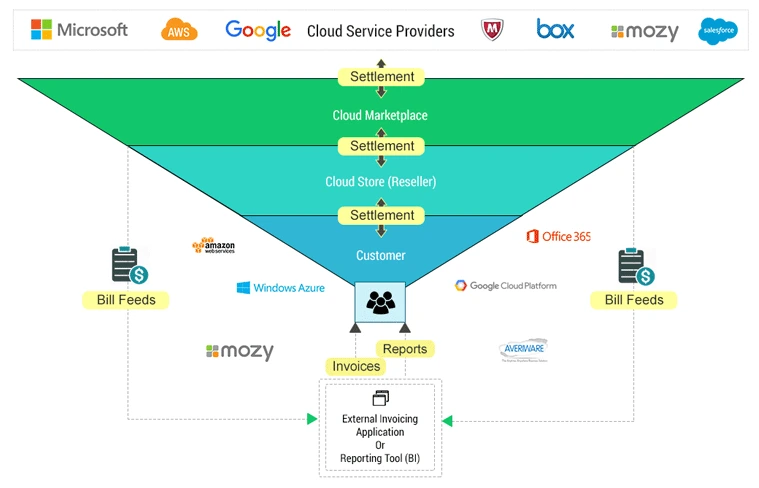 BUDGETING
With the start of providing a cloud, it is essential to provide or allocate usage cost to the appropriate cost center. The Jamcracker Platform provides a cost-efficient management solution for any enterprise cloud services by allocating cost to budget established for departments, projects, lines of business or other cost centers.
SHOWBACK REPORTS
Jamcracker Platform ensures crystal visibility into cloud service utilization and costs from a single, centralized, and unified interface. This is possible with the help of showback reports that allow the enterprise to show allocations of IT Services to the business units.
COMPLEX BILLING IN JAMCRACKER PLATFORM
Jamcracker Platform supports complex billing like in the case of service bundling where two or more services are sold as a single SKU. Since IaaS services are billed based on the usage, common margin option works rather than defining an upfront retail pricing. When considering SaaS services, the billing is entirely generated based on subscription. Jamcracker Platform allows the user a complete flexibility to create a single SKU by including two or more services as a single upfront pricing plan.
JAMCRACKER MAKES CLOUD BILLING MORE CONVENIENT
The vital factor that Jamcracker follows is to make billing easily accessible. Cost Analytics in Jamcracker Platform gives flexibility for the customers to view their cost in different dimensions. The billing engine formulates and segregates the necessary factors influencing the billing. The cost in tenant level or in a linked account level etc. is segregated in the billing engine. The very same mapping features can also be implemented by several Business Units, customer's contracts or divisions etc.
The customer can make use of the tagging mechanism which enables them to view the cost at a more granular level. This helps them to segregate the data into single or multi-cloud scenarios. Tags are ultimately created at the IaaS resource level which contributes to the up keeping of business units, cost centers, or projects.
Jamcracker possesses the ability to execute a complex billing and generate a bill hassle free. The billing in Jamcracker is automated and comes with the feature that enables other financial systems to use the Platform for generating bills. The consumption is billed depending on the subscriptions or the usage. We don't just forget you once the billing cycle is done but we help trigger and track collection process where ever necessary. Jamcracker provides an enriched cloud ecosystem with different providers. Though automated, but it still gives you an opportunity to run show backs and chargeback manually if required.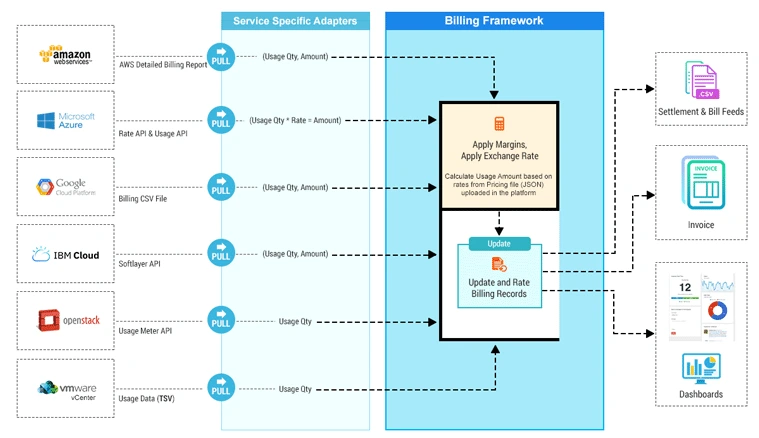 In conclusion, the Jamcracker Platform is integrated with several cloud providers to make your billing experience worth remembering.