Wednesday, January 15, 2020
Many enterprise and government IT organizations are realizing the benefits of cloud computing by extending IT delivery and management processes across private and public cloud services. But they are often challenged with balancing the need for centralized cloud governance without stifling user-driven innovation.
This strategy requires an approach that fundamentally reshapes how IT is delivered today, shifting the focus from infrastructure to services aggregation, and mixing and matching the best services for meeting organizations' current and future needs.
For enterprises, the IT as a Service (ITaaS) model is a means for IT organizations to unify cloud services delivery and management so they can speed innovation, collaborate on a global scale, reduce operational costs, and grow the bottom line -- while ensuring consistent cloud governance.
Last week we discussed how Hybrid IT will increasingly leverage the benefits of cloud computing – if IT Organizations are able to unify delivery and management processes across internal and external services. Gartner, Forrester and other analysts are increasingly advising enterprise IT to become a cloud provider and service broker/aggregator so they can speed innovation, collaborate on a global scale, reduce operational costs, and grow the bottom line -- while ensuring consistent cloud governance.
Organizing for Hybrid Cloud Management
Many enterprises are moving towards a multi-cloud approach where IT acts as a private cloud provider as well as an aggregator of public cloud services. As a private cloud provider, IT DevOps develops proprietary workloads running on an internal VMware or other virtualized environment, and then delivers these workloads -- e.g. application services -- to their business users.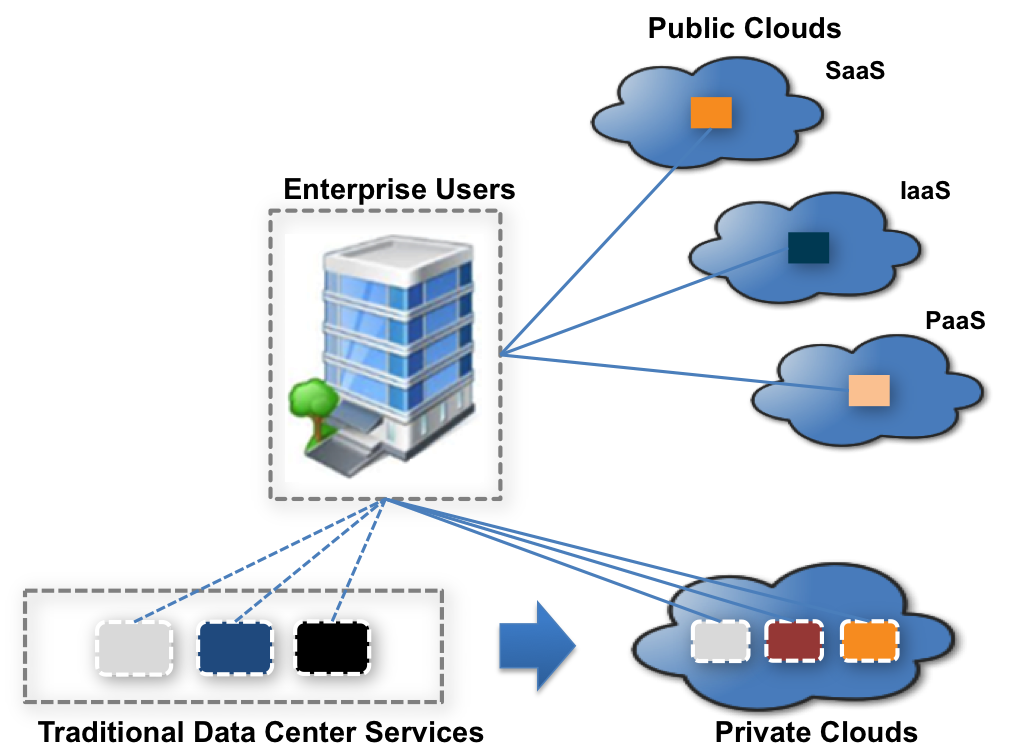 For public cloud services, IT can be both a consumer as well as a value-added services provider to their organizations' lines of businesses. As an example, an IT organization may choose to host certain application services with a public cloud provider, and then deliver these application services via a cloud delivery model to their end-users. With the brokering function, IT aggregates public cloud services -- including SaaS, XaaS or other 3rd party offerings -- so that they can unify the delivery, governance, service management and user management life-cycle.
Realizing ROI
Internal cloud brokers provide a means to significantly reducing the life-cycle management and licensing costs for cloud services usage within your organization. Deploying your own Enterprise Cloud AppStore will your organization with several important ROI benefits including:
Overall reduction in 3rd party services administration and management. On average across all industries, this is around 28%. As the adoption/usage of cloud services continues to grow exponentially as a core component of IT services, this overhead cost will continue to grow as a percentage of overall IT spend.
License management via cloud services usage optimization and cost consolidation.
Password policy control and life-cycle management. ~40% of all IT helpdesk calls are for lost passwords. Enabling SSO and centralized password management across all cloud services your organization consumes will significantly reduce the number of calls.
Reduce exposure to corporate data loss from to employees, who have left an organization, not automatically being de-provisioned from cloud services.
Centralizing access and provisioning of employees to cloud services enables the ability to centralize usage auditing, reducing the cost associated with verifying regulatory compliance -- enabling effective cloud governance.
So what are some of the major considerations that enterprise IT organizations should consider about implementing a Cloud Service Broker model?
Tune in next week!